Roll over image to zoom in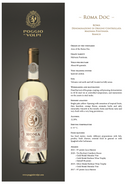 Description
Medium Body, Dry (Malvasia Puntinata). DOC. 13% Alc.
97/99 points Luca Maroni.
A 'new' wine for Singapore, from the winery that brought you hugely popular labels such as the red ROMA and rare grape BACCAROSSA, as well as Frascati Superiore EPOS. This white wine showcases the local Malvasia grape in all its glory. It's a bold, rich wine. Pair with aged cheeses or flavourful fish dishes. It can also stand up to some spicy dishes. Or just relax and enjoy on its own!
From the winery: "Roma Bianco echoes the luxury and splendor of the times of Ancient Rome. The Roma DOC Bianco is produced from Malvasia Puntinata in purity, raised on the volcanic soils of the Castelli Romani, that are also among the main grapes for the production of the Frascati Superiore DOCG. It is an ancient variety very interesting for its aromatic quality and mineral expression, it gives a bright color to the wines, a great flavor and at the same time structure and softness."
Payment & Security
Your payment information is processed securely. We do not store credit card details nor have access to your credit card information.