Roll over image to zoom in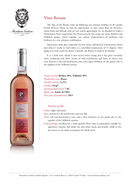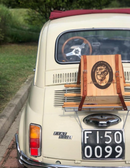 Description
Medium Body, Fruity (Nebbiolo, Barbera). Alc 13%.
Refreshing rosé made from a blend of the key Piedmont grapes, by prestigious winemaker and president of Roero wine consortium!
MEET THE WINERY: Click here to read more background on this family-run estate.
TASTING NOTES: lovely soft fruit notes (melon, ripe cherries, wild strawberries) and a refreshing palate; nice acidity and long finish. Pair with slightly spiced, tomato-based pasta, like, Calabrian Chili Tomato Lobster Pasta.
From the winery:
"The idea of the Rosato came up following our summer holidays in the nearby French Riviera, where we had the opportunity to taste many Rosé de Provence, whose fresh and delicate style we very much appreciated. So, we decided to vinify a Rosé, inspired by the Provencal style but using our native grapes, which together can express characteristics of perfumes and freshness in a very pleasant combination.
It is a fresh wine which is best served when young and it has great versatility when combined with food. Aroma of wild strawberries and hints of cherry; this wine features a soft and harmonious taste and a great freshness on the palate, due to the sapidity of the tannin."
Winery notes:
Colour: light ruby-pink. Nose: aromas of wild strawberries and rose-hip. Taste: soft and harmonious taste, and a clear freshness on the palate due to the sapidity of the tannins.
Food pairings: excellent for a fresh aperitif, Rosé wine is particularly suitable for appetizers, risottos, fish dishes but also white meats and poultry, while in the hot season it can easily accompany the whole meal.
Payment & Security
Your payment information is processed securely. We do not store credit card details nor have access to your credit card information.