Roll over image to zoom in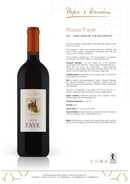 Description
Medium Body, Dry (Cabernet Sauvignon, Cabernet Franc, Merlot, Lagrein). Alc 14%.
TOP PICK from the innovative winemaking duo of Trentino.
Dolomite legends Mario Pojer and Fiorentino Sandri present a Bordeaux blend with a mountain twist - addition of the local Lagrein grape. This wine boasts a rich, fragrant nose (meadow flowers, dark red plum, cherry) and a silky smooth character, with a delightfully long finish. It balances being powerful yet elegant. Completely unforgettable!
NB: The gorgeous label was inspired by Albrecht Durer (see more info here) and we informally call this our "bunny" wine!
Payment & Security
Your payment information is processed securely. We do not store credit card details nor have access to your credit card information.