Roll over image to zoom in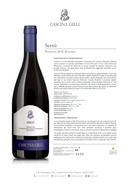 Description
Medium Body, Dry (Bonarda). DOC. Alc 13.5%.
An opulent nose with ripe red fruit notes (plums, dark cherry) and hints of black fruit too... bramble notes... juicy with firm yet supple tannins! Little like a Barbera and Nebbiolo love child. Something classically Piemonte in this glass, while still being fresh and 'new'.
WINERY NOTES: Cascina Gilli has played an important role in rescuing two grape varieties, Freisa and Malvasia, which during the years had been unfairly neglected. Today we are focusing our commitment towards another grape variety, almost forgotten, but which finds a soft spot in our hearts: Bonarda Piemonte. Usually Bonarda is produced slightly sparkling, but we have made a limited production of this Bonarda Piemonte in a still version, dedicated to our most loyal customers. The result is our Bonarda Sernù, a wine with a delicate bouquet, yet full and generous that seduces the taster. Its measured alcohol and acidity allow full scope to the admirable balance of its fruit. Part of the wine briefly ages in oak barrels.
VINIFICATION: The grapes are left to ferment six-eight days at a temperature of 26°, so to obtain a good extraction of colour, which has purple hues. After the malolactic fermentation and the settling the wine stays partly in oak barrels and partly in stainless steel for over a year. Only the following spring the wine is assembled in the bottle, where it settles for some months.
Payment & Security
Your payment information is processed securely. We do not store credit card details nor have access to your credit card information.