Roll over image to zoom in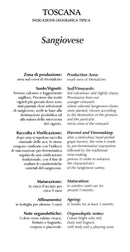 Description
Medium Body, Dry (Sangiovese Grosso). Alc 14.5%.
Made from the Sangiovese Grosso vine (maturation in stainless steel) this is a delicious Tuscan wine that opens up in your glass to offer notes of cherry, plum, cranberry and tomato leaf, plus hints of spice!
As with all our wines, this is lovingly made at a small-production family estate. Note the cute winery logo - an Etruscan symbol depicting the sun, based on a relic found on the grounds of the farm :)
Payment & Security
Your payment information is processed securely. We do not store credit card details nor have access to your credit card information.