Roll over image to zoom in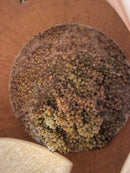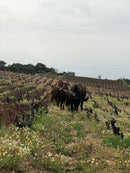 Description
Medium Body, Dry (Vernaccia). IGT. Alc 14.5%.
An exciting new wine (a grape loved for its almost sherry-like nose) from the Sardinian vineyards of Bentu Luna - sister winery of prestigious Lombardy estate Castello Di Cigognola.
Bright, vibrant colour with an initial nose of exotic fruits (papaya, honeydew melon) with floral notes and a touch of 'leesy' (yeasty) notes too. Easy to see the comparison of Vernaccia and Sherry. Rich palate (medium+ body but almost feels bigger thanks to richness of fruit) again with exotic fruits and some over-ripe fruit notes. Lively acidity, great structure, savoury finish ... and overall a beautifully balanced wine.
Endemic Italian white grape (55 year old vines) grown in an important wine zone right in the centre of the island, then produced at the winery estate on the central West coast (in Neoneli in the province of Oristano).
GRAPE GEEK: Vernaccia di Oristano is distinct from the arguably better known Vernaccia di Gimignano of Tuscany. This name has historically been used to refer to a 'native' grape, so you will also find other varieties in Italy that sound confusingly similar, but usually denote an entirely distinct grape variety - such as Marche's fizzy red Vernaccia di Serrapetrona; or Umbria's Vernaccia di Pergola (also known as Aleatico). And you may recognise the etymologically-related Vernatch, which is the Germanic name of Schiava found on many Alto Adige labels.
WINERY NOTES: (coming soon).
LEARN MORE: Follow this link to a podcast by Wine For Normal People that's useful for understanding more about the SARDINIA region (important for grapes like Vermentino, Monica, Cannonau, Bovale)!

Finally, an excerpt from an article by Walter Speller for JancisRobinson.com says "Sardinia has become a hotbed of activity, especially the high plain of Mandrolisai, where many old and very old vines of indigenous varieties can be found. Only now is the full potential of this area being recognised with the recent and considerable investment made by the Moratti family, responsible for some fine Oltrepò Pavese sparkling wine. A brand-new cellar has been built for their Bentu Luna estate on Sardinia. Star oenologist Federico Staderini is involved in this new enterprise as well as with their Oltrepò Pavese sparklers. The first vintages of the Bentu Luna wines ... are truly captivating and amazing expressions of Cannonau especially – the best I have come across so far in Italy. Some of these elegant, complex and, I expect, long-lived wines come in at a whopping 15.5%, but you wouldn't know it."
Payment & Security
Your payment information is processed securely. We do not store credit card details nor have access to your credit card information.