Roll over image to zoom in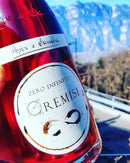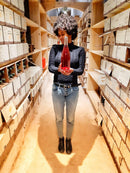 Description
Medium Body, Dry (Piwi*). Alc 12%.
Very limited production*** (and only the 2nd vintage) of a unique frizzante rose from a special grape; the new sister wine to Zero Infinito from Solaris grape. Perfect as an aperitif, or in place of a cocktail.
This nonfiltrato wine has been made with zero chemicals from vine to bottle. Decant or enjoy unfiltered - the way the winemakers intended.
The grape is a dark red (blue) variety suited to mountain climates and its character is "fruity and floral aroma with hints of wild berries, strawberries, raspberries, blackberries, blueberries and black currants. Soft, with low tannin content, very aromatic".
LABEL: By the Trentino Artist Rolando Trenti from an idea by Francesco Arrigoni. 
*GRAPE FACT: a PIWI (a German abbreviation) refers to a group of special cross-breed varieties. AKA - Eco-friendly viticulture without chemicals. "These were created by crossing European grape varieties and American fungus resistant varietals. Most of them still are known as hybrids or interspecific varietals and were first used in France from 1880 to 1935. The aim was to combine the good resistance to diseases and phylloxera of the American grape varieties with the high quality of European varietals. Unfortunately these new varietals were not able to survive on their own root. New cultures, which have been grown after 1950, are very complex, may have been created with Asian varietals and are the result of decades of crossings. They belong to the type Vitis vinifera because they are not to be distinguished taxonomically. An official examination in comparing different grape varieties has proven the high quality in wine production of Piwi varietals." For the full article click here. 
Psst! Don't miss the chance to taste the 'brother' wine - ZERO INFINITO from another rare disease-resistant grape called Solaris (frizzante white wine): zero-infinito. 
** fancy having a go at the full German name? " pilzwiderstandsfähig Reben" :-)
NB: Limited stock*** - maximum two bottles per customer (until larger stock available).
*** FYI, larger stock was expected but unfortunately due to an accident at the winery's warehouse they lost 1,000 bottles of this very limited production wine, so our order for the Singapore market had to be reduced ... so now we feel very lucky to have the few bottles of this second vintage at all, given the situation. Please sip and enjoy every mouthful ... :)
Payment & Security
Your payment information is processed securely. We do not store credit card details nor have access to your credit card information.