Roll over image to zoom in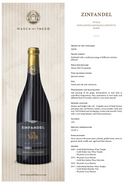 Description
Full Body, Fruity (Primitivo). IGP Rosso Riserva. 14% Alc.
98/99 Luca Maroni. Gold medal Berlin. Gold medal Mundus Vini.
Smooth and silky red with hints of sweet tobacco.
TASTING NOTES: Deep colour. Red berries, dark plum, black cherry and sweet tobacco. A smooth, long finish.
NB: Wine produced at sister estate Masca del Tacco of Apulia. (To find out more about the Lazio wines by Poggio Le Volpi, click here.)
The Primitivo grape of Apulia - popularised in California as Zinfandel (and the reason for this wine name) - traces its lineage back to the ancient Phoenicians who settled this part of the peninsula. This smooth, low tannin wine is now enjoying long overdue praise for its juicy and well-structured character - ideal for Asian cuisines. In this Zinfandel, expect plum and chocolate notes as well as hints of spice, with soft tannins. Enjoy this fruity red with a roast or red sauce pasta ... or open a bottle (or more) for your next BBQ!
GEEK OUT ON GRAPES:
The Primitivo grape is planted along the 'heel' of Italy' - the Apulia region - and its name derives from its tendency to ripen earlier than other grapes.
Its origins are interesting: It was an early grape for winemaking in Croatia (where it's known as Crljenak Kastelanski or Tribidrag) at least as far back as the 15th century. In the 18th century a clone was taken to southern Italy, where it became a popular rustic table wine. In the late 1960s this vigorous vine travelled to the US, where it became known as Zinfandel and thrived in the heat of California. In fact, grape geneticist Carole Meredith, who studied the variety in great detail, refers to it as ZPC - Zinfandel / Primitivo / Crljenak Kastelanski.
Primitivo is not as challenging a vine as others, like Pinot Nero, but it does tend to ripen unevenly - meaning patches of fruit within one bunch can be close to raisins while others are under ripe. Some winemakers separate the bunches (or even individual grapes) which can add to the cost of production and increase wine pricing, while others prefer to experiment and create wine from fruit with mixed levels of ripeness.
Primitivo vines produce fruit with a high sugar content, which tends to result in wines with high levels of alcohol. Cooler climates can produce Primitivo wines with red berry aromas or flavours, but the Primitivos of southern Italy tend to hint at blackberry and liquorice plus some peppery notes.
Serve this punchy wine with rich tomato dishes, such as lasagne. Try it with a steak alongside a slightly sweet sauce or relish, or with barbeque food like sticky chicken wings. It also pairs well with spicy sweet dishes, such as coconut-based curries and also Moroccan style lamb.
Payment & Security
Your payment information is processed securely. We do not store credit card details nor have access to your credit card information.