Roll over image to zoom in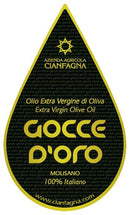 Description
EVOO - Extra Virgin Olive Oil from Cianfagna of Molise. (500ml).
The power of EVOO: Olive Oil has long been known for its impressive health benefits. It's packed with antioxidants, polyphenols and healthy monounsaturated fats, which help reduce inflammation and protect your heart. Plus, it helps to maintain healthy blood sugar levels and can be an aid in weight loss. It's also incredibly versatile and can be used in a variety of recipes. By choosing EVOO (extra virgin olive oil) from small-production, organic estates, you can get all the health benefits without any of the added chemicals.
WINERY NOTES: The extra virgin olive oil Gocce d'Oro is produced from olives of two variety, evenly distributed, Leccino and Gentile from Larino, a small city not far from the sea. The olives are harvested in October and November manually and directly from the plant, to maintain the nutritional characteristics of the fruit. We find in the oil a delicate scent of fruit and the typical spicy taste of the high quality oil recently worked. The olive groves are on a hill about 500 mt. above sea level, in an area where the microclimate has a good temperature range, not allowing the insects to easily reproduce themselves and avoiding the formation of parasites. This avoids the use of anti-parasitic and allows to obtain a genuine oil of high quality.
NB: Explore our range of delicious organic wines from this family winery - CLICK HERE.
Payment & Security
Your payment information is processed securely. We do not store credit card details nor have access to your credit card information.