Roll over image to zoom in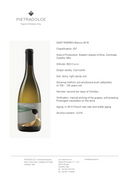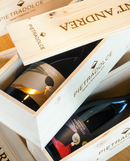 Description
Medium Body, Dry (Carricante). IGT. Alc 13.5%.
Winery's special selection; limited production; old-vine with extended maceration on the skins!
18/20 Jancis Robinson. "Cask sample. From the highest part of the Archineri vineyard in Milo, hence Superiore. A selection of fruit from pre-phylloxera vines, fermented in 20 hl oak casks. Stunning nose of oatmeal, lemon and mandarin fruit. The oak really complements the fruit on the palate. Lemony, energetic finish and beautifully textured. (WS)".
VINTAGE NOTE: 5/5 "Exceptional" WSG (Wine Scholar Guild).
TASTING NOTES: Rich, layered nose (some classic 'skin contact' notes as you get with orange wine, like sweet flowers and butterscotch - maybe also a hint of ginger in this wine?); look for marzipan (those sugared almond sweets), orange blossom; beautiful in the mouth with a great structure, texture and length ... with stunning ageing potential.
"A model small estate making top-level authentically regional wines from mostly old vines, including several pre-phylloxera parcels" begins the write-up by Master Sommelier John Szabo in his fabulous 2016 book "Volcanic Wines - Salt, Grit and Power".
The passage continues "Michele Faro's grandfather grew grapes and made wine on Etna, and some of the oldest parcels were in family hands, so he got off to a running start in 2005. Vineyards are on the north side, all above 600m: tiny Barbagalli with gnarled centenary bush-trained Nerello Mascalese is the highest and most precious, yielding succulent, spectacularly balanced wines, with endless finish. Cru Archineri is nearly as impressive, also from old vines planted a few metres below Barbagalli. Steely, flinty-mineral Archineri Bianco is from 10-year-old+ Carricante near Milo on Erna's east side. Infinitely drinkable Etna Rosso from younger albarello-trained vines is well proportioned with delicate red fruit. Purpose-made Etna Rosato from 40-year-old trellised vines rounds out the superb range."
Payment & Security
Your payment information is processed securely. We do not store credit card details nor have access to your credit card information.