Roll over image to zoom in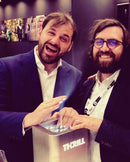 Description
Full Body, Dry (Corvina 47%, Corvinone 28%, Rondinella 23%, Oseleta 2%). DOC. Alc 13.5%.
This is a perfect introduction to northern Italy red, thanks to its fruity and juicy character.
Plus, you can relax and enjoy a bottle (or more) of the wines from TASI knowing they are made using biodynamic practices!*
TASTING NOTES: packed with red fruit aromas and red fruit on the palate, yet some notes of black fruit peek through and this vintage shows more non-fruit notes like a Pinot or Nebbiolo (earthy, mushroom, tobacco leaf, hint of caramel and spice); round, smooth, bright wine; takes you to the rich mineral soil (special vineyard)! Pair with BBQ or fragrant dishes.
* After spending years studying and reviving their land that had previously been a quarry (depleted of nutrients etc), this energetic winery continues to follow the philosophy of minimal intervention wines.
FYI: In a local Veneto dialect 'tasi' means "hush" and according to the winemakers it is a "call to shut up, to everybody who takes themselves too seriously" so we suggest you slow down, hush and take a moment to enjoy a sip of healthy vino by TASI.

LEARN MORE: Follow this link to a podcast by Wine For Normal People that's useful for understanding more about the Valpolicella area (plus production methods for Amarone and Ripasso)!
MEET THE WINERY: Click here to read more background on this biodynamic estate.
Payment & Security
Your payment information is processed securely. We do not store credit card details nor have access to your credit card information.