Roll over image to zoom in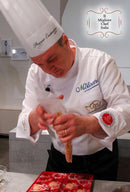 Description
WHITE TRUFFLE CONDIMENT [Centro Tartufi Molise*] 80g
"Tartufata Bianca" - White truffle condiment, perfect for garnishing or as a spread.
For over 2,000 years, truffles have been one of the world's rarest and most prized delicacies. Italy is the biggest provider, but did you know that MOLISE is its best kept secret?
Molise is known to produce some of the highest quality black and white truffles. Centro Tartufi Molise are the experts and guarantee exceptional high quality fresh truffles, ranging in size from a pea to an orange, with the average truffle about the size of a golf ball.
* Centro Tartufi Molise work alongside our winery CIANFAGNA to bring attention to the unique products of the Molise region. To explore a range of delicious Molise wine (to go with your truffle dishes) go to this link: winery_cianfagna - don't miss the chance to try rare local grape Tintilia.
Payment & Security
Your payment information is processed securely. We do not store credit card details nor have access to your credit card information.